Why feedback matters and how to receive it.
Gepubliceerd: Monday 15 February 2021
hits: 11378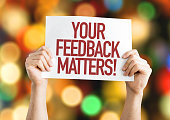 During an online training last week I heard Young Professionals tell me over and over how difficult it is for them to give and to receive feedback. Research shows that not getting feedback is very often why people leave the job. They say the following:
I don't know how to improve?
I don't know how to be successful here?
I don't feel supported?
I don't see how I fit in here?
As a leader we are responsible for all these reasons. We all need feedback.
Feedback helps us to make sure our actions match our intentions.
Avoiding feedback is like living your whole life without looking in a mirror.
Learning to receive it is the first step.You don't have to convince anyone that they are wrong about you.
DO NOT DEFEND! When we defend we relate feedback to ourselves. We think:
I have disappointed them.
I am not good enough.
I am not fit for the job.
They don't see my talent!
Practice the following:
If you see work as an agreement on expectations (alignment on content and process) it is easier to respond on feedback by re- aligning on the expectations.
"I am sorry you are not satisfied. What have you been missing?
"Are you not satisfied on my content or on my process?"
"Can we make a new agreement that we are both satisfied about".