René Redzepi: Creativity; what makes it really good and what fucks it up?
Gepubliceerd: Tuesday 03 June 2014
hits: 19474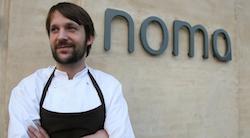 René Redzepi Chefkok van Noma in Kopenhagen was zo succesvol dat het succes hem geen plezier meer opleverde en zijn creativiteit verlamde. Hij schreef een jaarlang een dagboek en leerde hieruit het volgende:
What was a good day and what are bad days?
What fucks it up and what makes it really good?
I learnt getting to be un-afraid again!
There is nothing to loose!

I am just myself,
let me go crazy again
untill somebody says stop!
If it doensn' t work it just doesn' t work.