Motivating Millennials Takes More than Flexible Work Policies; 3 tips
Gepubliceerd: Sunday 26 March 2017
hits: 17419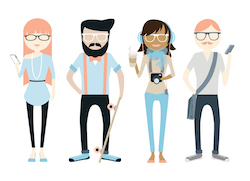 When I read this article I realized again, as a babyboomer, that we have to communicate with our youngest working generation to fill in the possible generation gap!
Millennials, their success is driven by the passion for connection and with the greater good that this generation is known to value. THEY WILL BE OUR FUTURE LEADERS!
3 tips how to motivate Millennials:
1. Train managers and supervisors to communicate openly, effectively, and frequently. Managers exercise profound influence over employees' desire to remain with a company—and it's no different with Millennials. But according to the aforementioned Chamber of Commerce report, the number one reason this cohort leaves a job is directly related to a boss. Other research has found that Millennials want communication from the boss more frequently than any other generation in the workforce. In fact, one study reported that 42% of Millennials want feedback every week—more than twice the percentage of every other generation.
2. EmbraceBuild an entrepreneurial environment that encourages employees to research and develop their ideas. technology and make collaboration a way of doing business. Millennials are digital natives.
3. Loosen up the notion of the career ladder. "Millennials expect to work in communities of mutual interest and passion – not structured hierarchies," he savviest businesses are not waiting for some tipping point to react. They are adjusting their approach to managing and communicating with employees now. And this will determine how successful they will be in retaining these future leaders.
Source: Harvard Business Review / Tracy Benson